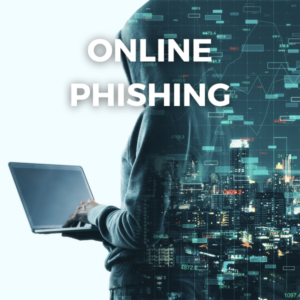 The first recorded instance of financial fraud dates back to 300 BCE, when a Greek shipping merchant borrowed money that he never intended on paying back.
It's safe to say that scams have existed since time immemorial — and they'll continue to exist because they keep evolving. Case in point: phishing.
Phishing is the attempt to acquire sensitive information (like your banking details) through a fake email or text message that looks like it's coming from a reputable business.
One of the most popular phishing scams in the post-pandemic landscape is the fake going-out-of-business sale. If you have access to the internet, you've more than likely seen the ads.
No matter what they claim to be selling, be it furniture, paintings, or clothes, each scam seems to use the same script: The 'stores' have struggled to keep their doors open since the pandemic and can't do it anymore, so they are unloading everything at a discount.
These offers sound legit, and they're effective because they exploit the economic anxiety that many Americans are still struggling with.
Tantalizing on the surface, rotten inside
Since 2020, many small businesses have gone out of business — and 1.2 million jobs have been permanently eliminated.
In a December 2022 survey by insurance company Allianz Life, 52% of respondents were worried about their ability to pay their bills. That's a significant jump from the year before when only 38% expressed concern.
It makes sense that anyone trying to spend their money wisely would keep an eye out for sales on the things they need.
And that vulnerability is exactly what scammers are preying on.
A virtual buffet
The pandemic supercharged online scams, especially when lockdowns gave them a captive audience.
By the end of 2021, the Federal Trade Commission, or FTC, said that 95,000 people had reported $770 million worth of fraud from social media alone — a number that represented a quarter of all fraud claims from that year.
Of course, fake 'going-out-of-business' scams aren't the only ones circulating the web these days. There are also romance scams and identity fraud, to name just a few.
Swimming free
Online scams aren't going away any time soon — but you can learn what to watch for.
In the case of phishing, the scammer's end goal is to access your personal banking information in order to open new accounts or invade your existing ones.
Here are a few tips to help keep you safe from phishing scams:
In 2022, it was estimated that up to 8.3% of all functioning websites were scams. So, before you press that tempting "buy now" button, take some time to look up the company on the Better Business Bureau's Scam Tracker.

Be wary of any texts or calls that ask for more personal information after you purchase something online, even if the website they direct you to looks legitimate.

Typically, if scammers want cash, they'll ask you to send it through a money transfer or using prepaid gift cards. Ignore requests like this and report them immediately.

It's crucial to stay informed, report suspicious behavior, and contact your bank if you need support.
If you're concerned that you may have fallen victim to an online scam, Tech Help Boston offers a variety of services to help protect you and your information from fraudsters. Our team of experts can help you navigate through suspicious emails and websites and can assist in setting up security measures to protect your personal information.
Visit our website to learn more about our cybersecurity services and schedule a consultation with one of our tech experts, or you can give us a call at (781) 484-1265.
.