There will always be a better version of something, especially for technology. Now as technology continuously develops to make our lives convenient at the lowest cost possible, people tend to have an "out with the old, in with the new" attitude. However, this only applies to most of the younger generations.
But, why? Because older generations are more comfortable with the technology they're accustomed to using for a long time – like with cable connections having almost 200 channels! (You'll never get tired to watch TV because you have adequate options to choose from). However, cable services charge exorbitant amounts from their subscribers and this issue became a debate topic for TV enthusiasts.
With the rise of streaming services, this option poses a better alternative to cable service. It's more affordable, flexible, and customizable. Here's the details why you should cut the cord and switch to streaming services.
No Contract Term
Cable and satellite services require their subscribers to sign a one- or two-year contract. Some may offer no-contract options, but they charge a much more expensive rate for this setup. This is not the case for streaming services as they offer a looser agreement. Users can avail of month-by-month subscription plans which can be canceled online, anytime and will automatically terminate before the next bill date.
Lower Prices
When it comes to the price increase, cable providers raise their monthly rates, sometimes double the usual, almost every year while you're still under contract. However, streaming TV providers' prices increase year-over-year and if it's too much for you, you're free to drop the subscription at any time.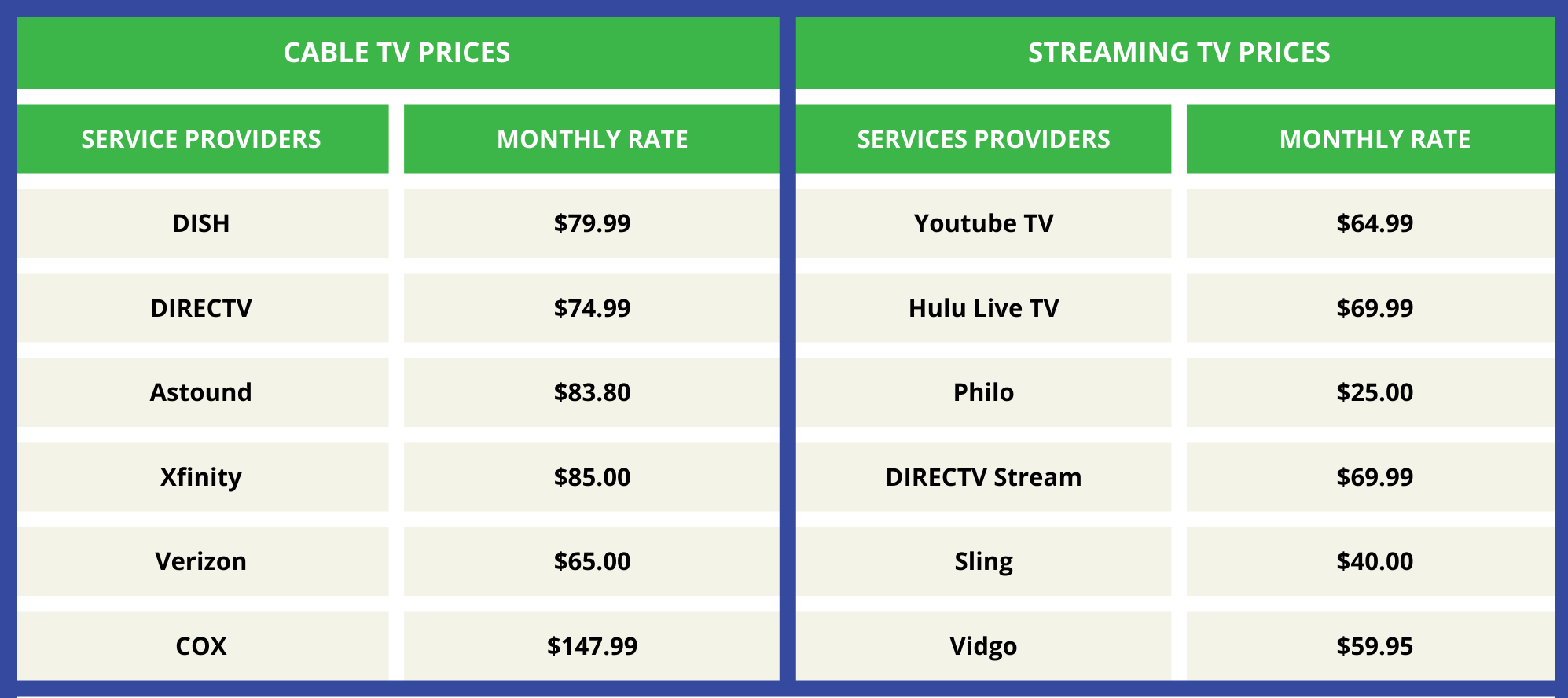 With Streaming TV Services especially Youtube TV and Hulu TV, you can enjoy up to 100+ channels without paying for installation fees. They also include unlimited cloud DVR storage space and rewind, fast forward, and pause capabilities.
Service Availability
Cable services vary in every geographic area. There are channels available across the country but there are channels that are limited only in your city. In contrast, streaming services can be accessed nationwide. Your access won't vary based on where you are as long as you have a decent Internet service, you can stream all you want and when you want.
Device Compatibility
Streaming devices are compatible with a wide range of TVs including older models. Cable TV, on the other hand, is only compatible with newer TVs with an HDMI port. If your TV doesn't have this port, you'll need to buy a cable box, streaming stick, or an HDMI converter.
If you're still deciding whether you're gonna make the switch, you can call us at (781) 484-1265 and we'll help you go through the decision process.